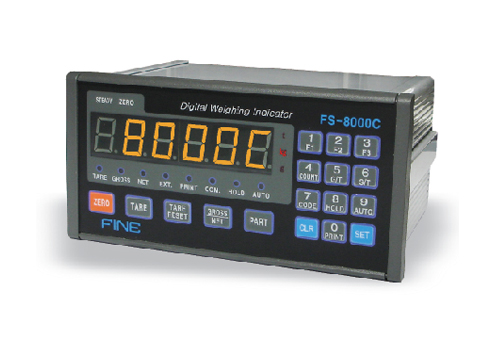 Compact Weighing Indicator
FS-8000C Weighing Indicator is particularly suited for weight and measures approved
applications such as Platform Scale, Truck Scale, Compression Tester, Strain Tester so on.
FS-8000C also is available in a robust Aluminium housing for front panel mounting.
Particularly optimum use for interference suppression and longterm stability in harshest
environment.
Features
● Bigger 7 Segment LED Display(12mm(w) x 20mm(h)), Red, Green, Orange Color Adjustable
● Easy and Comfortable Calibration Operations(Zero Adjust Range: -4 mV ~ +42.0 mV)
● High Non-Linearty Range( 0.005% of Full Scale.)
● 3Kinds of Display Color Changeable according to the weight Setting
● Standard Time Chip Built in for configuration of Remote Display and Printer.
● Standard RS-232C/Current Loop Interface Built In for PC,PLC, External Equipment.
● 4 ~20mA, 0~10V Analog Output Adjustable
● Weight Auto Back Up Function depending on Zero Adjust Range.
<New improvement point>

♦ A compact Appearance by DIN regulations ( DIN 186 x 92 Panel Insertion )

♦ Set up to Max. 1/30,000 display resolution

♦ Function available to change the unit value such as kg, ton, lb, g

( In case of Serial Interface & Printer )

♦ It can track the based zero value without adjusting the DIP-Switch in Calibration

♦ Selectable A/D Conversion Speed(25,30,50,60,100,150,180,200,240 Times/Sec)

(SET UP F94)

♦ Available for 3kinds of different Interface(RS-232C,RS-422,Current Loop) at the same time

♦ Available to use the same load cell Until Max. 16pcs ( 300Ω standard)



Specification
1. Analog Input & A/D Conversion Section
Input Sensitivity
0.2 μ V/D
Max. Load cell

Input

1mV/V ~ 5 mV/V

Load cell excitation

DC 5V (± 5 V)

Max Input voltage

32mV

Temperature Coefficient

± 5 ppm / ℃

Input Noise
± 0.5 μv P.P
Input Impedance
More than 10 ΜΩ

A/D Converter

520,000 Count

Non-Linearty Range

0.003% F.S

A/D Conversion Speed

25,30,50,60,100,120.,150,180,200,240Times/Second
2. Digital Section

| | |
| --- | --- |
| Max. Display | "999999" |
| Min. Division | x1, x2, x5, x10, x20, x50 |
| Display Unit | 7-Segment, 6digit Highly bright fluorescent(LED Type) |
| Key Board | Numerical Key and Function Key(0-9,CLR,SET/CLR) |
| Data Back-up | More than 20Years |
3. General Section

Power Voltage
AC110 / 220V (±10%), Free Voltage 50 / 60Hz,

10VA
Indicator Weight
NET 1.2kg

BOX 2.0kg

Operating Temperature

-10 °C ~ 40°C

Operating Humidity

85%RH MAX (Non-Condensing)

External Dimension

198 x 99 x 101mm,

Install Size 186 x 92mm
4. Option Section
- Basic standard 1 : SERIAL INTERFACE : RS-232C

- Basic standard 2 : CURRENT LOOP

Option 3
Parallel I/F

: BCD Out Weight
Option 4
Serial I/F

: RS422, RS485
Option 5

Analog Voltage Out (0-5V / 0-10V)

Option 6

Analog Current Out (4-20mA)

Option 7
Print I/F

: CENTRONICS Parallel
Option 10
Parallel I/F

: BCD In PART
Option 11
Serial I/F : CH-A, CH-B Extension

CH-A = RS-232C, Current Loop

CH-B = RS-232C, RS422, RS485
Cutting size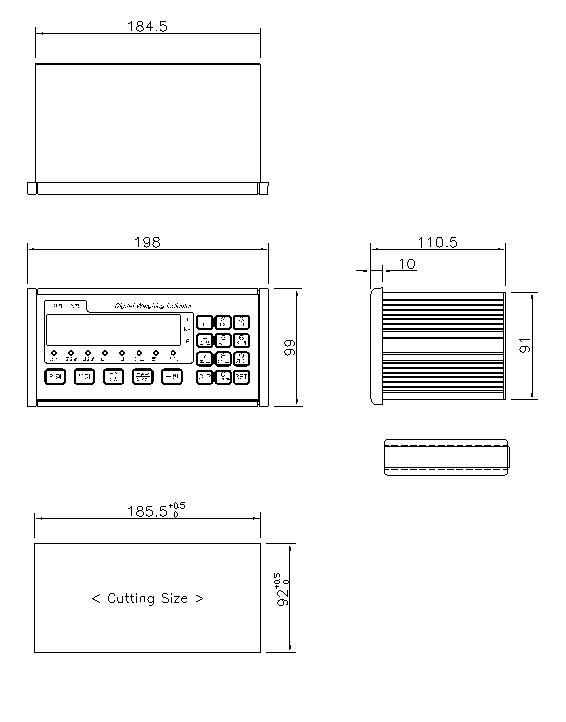 Applications